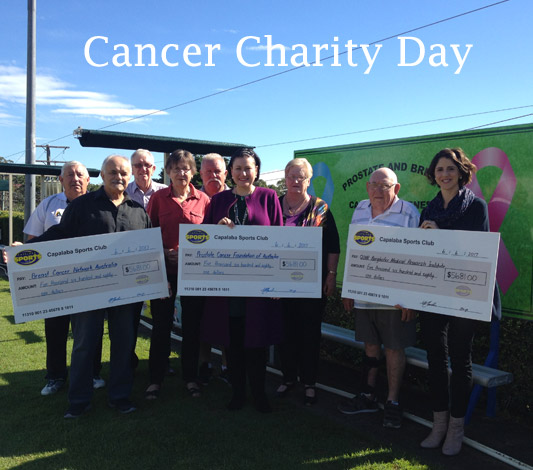 Capalaba Sports Club Men's and Ladies Bowls Clubs proudly presented cheques to QIMR and the Breast and Prostate Cancer Foundations today following our Cancer Charity Fundraiser on Sunday 21st May.  The cheques combined totalled just over $17,000 bringing the total over 4 years to $54,000.
The day kicked off with some barefoot bowls and continued into the afternoon with a BBQ, raffles and auctions.  The Redlands Ukulele Group kept everyone entertained while they were out around the greens.
Thank you to the committee and all the volunteers who worked hard to ensure the days success and also to the many local businesses who supported the day by way of items donated for the raffles and auctions.  The generosity of people inspires us.
A special mention to Peter and Carol Kennedy who worked tirelessly throughout the year selling homemade jams, pickles etc to raise money for they day.  They have so far raised over $6,500 alone which is a champion effort and they should be commended for their dedication to the cause.
We are proud to support charities such as these who make a positive difference so many peoples lives.
Our next Cancer Charity Day fundraiser has been scheduled as Sunday 27th May 2018 so be sure to lock it in!